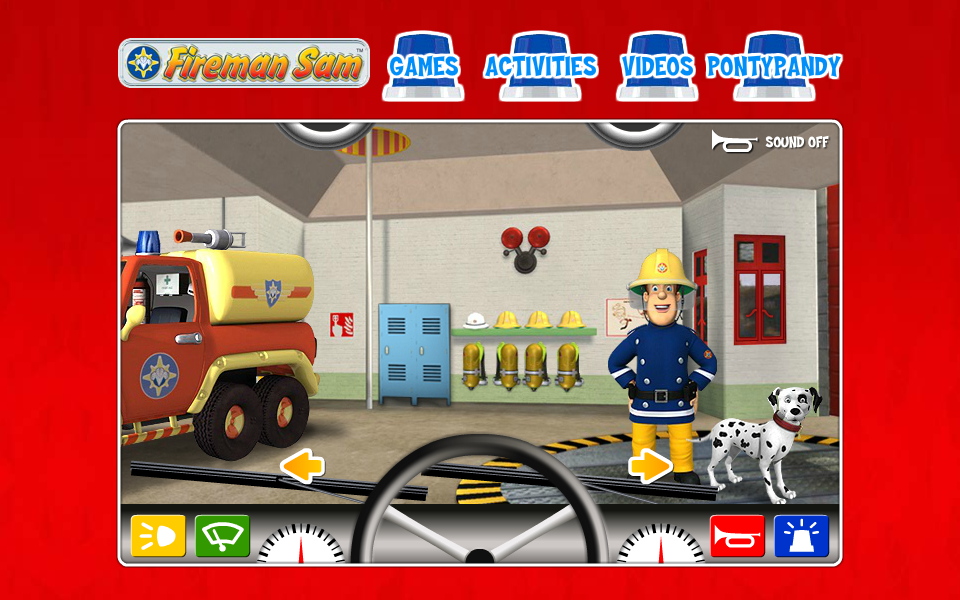 Fireman Sam's new site is the first belonging to HiT Entertainment featuring completely redeveloped CGI content, and includes an interactive rendering of the PontyPandy Fire station which allows children to explore Sam's workplace. Using Jupiter the Fire Engine to navigate, children can move through the Fire Station and discover many of the items and articles to be found lying around the building.

Game content from the original online offering is available on this new site, along with access to additional titles developed by Naked Penguin Boy to coincide with this re-release. More games are also scheduled for release during early 2009, and individual sections for Activities and Video have been included in the new build.
A new addition to the Fireman Sam site built for the re-launch is the PontyPandy section, which presents a newspaper-style biography for all of the characters that live and work in and around the little town. This also provides some simple cross-referencing between characters in the Fireman Sam universe, providing info on the who's who of PontyPandy and what they do.
The overall structure for the redeveloped site was generated in close conjunction with HiT Entertainment around their plans to bring a basic uniformity to the core layout of all of their children's properties. Navigational elements along with primary and secondary Feature areas now are flanked across many of HiT Entertainment's sites by standardised advertising panel formats, maintaining a consistent layout. The site's relaunch coincides with Fireman Sam's sixth series on British TV to be broadcast from February 2009 onwards. This series has been generated using the new CGI styling from which HiT Entertainment's website draws its inspiration.
Fireman Sam airs early 2009 in the UK and can be visited online with all of his old friends at http://www.firemansamonline.com/uk/
Read the case study here.